Research Projects
Q-META – Quantum emitters embedded dielectric and plasmonic light-emitting METAsurfaces
Q-META
Quantum emitters embedded dielectric and plasmonic light-emitting METAsurfaces
Research project selected under the 2023 call for proposals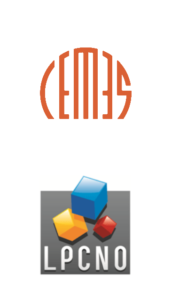 Principal Investigator : Aurélien CUCHE
Involved Teams :
CEMES / NeO
LPCNO / Nanotech
Type of project : Collaborative Project
Date (start/end) : 2023 – 2026
The Q-META project aims to control and enhance the emission properties of quantum emitters (QE) with 2D optical metasurfaces, well beyond performances offered by the single nanoantennas at the state-of-the-art. To do so, the nanosources of non-classical light will be accurately positioned in the near field of 2D plasmonic and dielectric arrays. The latter will be specifically designed to control the directivity, brightness, chirality, polarization of the QE emission via coupling to localized and collective resonances, in the visible/near infrared at room and low temperatures.